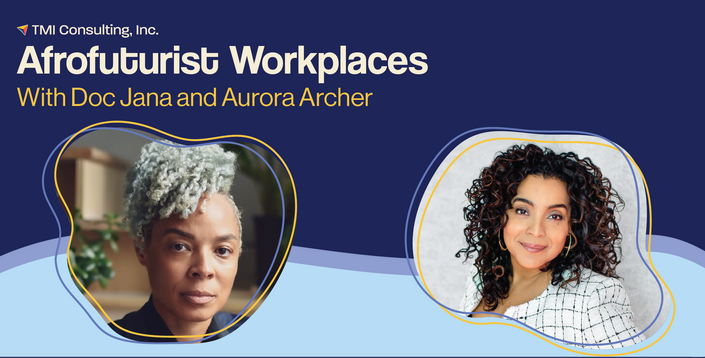 Afrofoturist Workplaces with Doc Jana and Aurora Archer
Afrofuturist principles to design regenerative, joyful, and inclusive organizational structures that disrupt traditional work environments.
Enroll in Course
Afrofuturist principles to design regenerative, joyful, and inclusive organizational structures that disrupt traditional work environments.
Join visionary founders Doc Jana (Founder at TMI Consulting, Inc.) and Aurora Archer (CEO and Founder at The Opt-In) in conversation as they discuss how to build more collaborative, inclusive, and healthy organizational cultures. These thought leaders share how they have leveraged Afrofuturist principles to design regenerative, joyful, and inclusive organizational structures that disrupt traditional work environments and focus on human thriving.

Learn About Our Speakers
Doc Jana
Dr. Tiffany Jana (they/them/theirs) is the founder of TMI's Portfolio companies, now celebrating 20 years championing justice, equity, diversity, and inclusion (JEDI). Dr. Jana spearheaded the TMI Consulting Inc.'s transition into the world's first Certified Benefit Corporation (B Corp) with a diversity accountability focus. Dr. Jana was awarded the B Corp community's highest honor, the Hal Taussig Award, for blazing a path towards JEDI values in action.
Dr. Jana has positioned the TMI Portfolio of companies as the global frontrunner in metrics-based JEDI engagement. As a multilingual, global citizen who has worked and lived internationally, Dr. Jana advocates for inclusion perspectives beyond the US context. Their global ideology is best experienced in their third book, the IPPY Award winning 2nd edition of The B Corp Handbook: How to Use Business as a Force for Good.
As the Founder of TMI's Portfolio of companies, Dr. Jana helps position the enterprise and our teams to best serve our myriad, complex client engagements. Dr. Jana's vision is to redefine the future of inclusion; to manifest equity by creating an accountable, loving embrace of people and culture that includes an emphasis on liberation through joy. The workplace can and should be a welcoming, safe, and healthy environment where employees can thrive and grow.
Dr. Jana has been featured in numerous publications and media including Fast Company, Inc.com, Forbes, Harvard Business Review and countless other publications for their work on diversity, equity, empowerment, and inclusion. They have authored six books, two of which made this Forbes list, and given hundreds of keynotes and lectures around the world. Their fourth book, Subtle Acts of Exclusion: How to Understand, Identify, and Stop Microaggressions won the 2020 Terry McAdam Award and the getAbstract International Book Award.
Last, but certainly not least, Dr. Jana is the proud parent of two college graduates, an artistic high-schooler, and a rambunctious yorkshire terrier.
Find more about TMI Consulting, Inc. Here: tmiconsultinginc.com
Aurora Archer
Imagine if the scales of equity at work, at home, and in society were reset? How would it impact our communities, our businesses, and the very essence of how we operate as leaders and individuals? Aurora Archer, CEO + Founder of The Opt-In™, plans to find out.
Aurora's mission is mighty in execution but simple in philosophy: create a new normal where everyone, of all identities, thrive to their fullest potential and our world includes narratives and solutions that serve all of us, not just some of us. It's this tenacity — fueled by a love for technology, marketing strategy, and DEI — that led to her company, The Opt-In™.
The Opt-In knows the future of work. And it knows the industry is headed for a more human-centric culture, and too many organizations aren't prepared or equipped to future-proof their business. The multi-disciplinary consultancy offers bespoke expertise across humanity-centered business strategy, learning development, marketing, and communications which allows employees to gain a shifted perspective and executives to evolve their organization's market growth. The result? Staying relevant to your broadest audience with reimagined products and services created by your most engaged team of intersectional talent.
Beyond her personal experience as an Afro-Latina Archer draws on over 25 years of experience leading success as a Marketing Executive in four distinct industries: retail, technology, health & wellness, content publishing & media. She's built a reputation as a catalyst business leader and strategic thinker. She uses her powers for good, empowering clients to abandon the zero-return status quo and instead drive bold growth. She has a deep understanding of how to drive success for a business from the inside out.
Aurora Archer has been featured in Medium, Working Mother, and The Philadelphia Inquirer. For press/media inquiries, please email [email protected]
Social handles for Aurora |
https://www.linkedin.com/in/auroraarcher/
https://www.instagram.com/auroraarcher/?hl=en
https://www.instagram.com/theopt-in/
Websites |
https://www.aurora-archer.com/
Your Instructor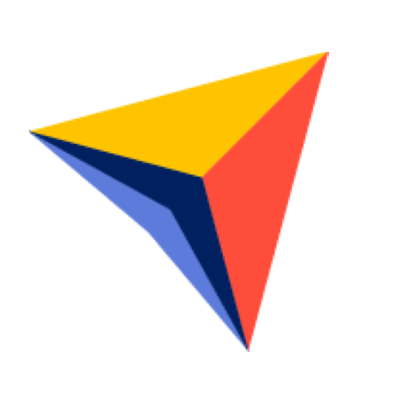 Based in Richmond, VA, TMI Consulting, Inc. provides management consulting services, assessments, speakers, and programs for advancing Justice, Equity, Diversity and Inclusion initiatives.
Course Curriculum
Afrofuturist Workplaces with Doc Jana and Aurora Archer
Available in days
days after you enroll